Frequently Asked Questions
On this page you can find the answers to frequently asked questions about the Eclipse Soundscapes Project.
---
Can I use the AudioMoth device to record for both solar eclipses?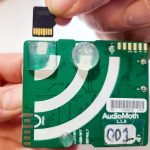 Yes, you can use the AudioMoth device itself for both solar eclipses (10/14/2023 & 4/8/2024). But, you will need two 64 GB Extreme U3 MicroSDXC cards – one for each eclipse. You might also need new AA batteries, new zip ties and a new plastic bag. If you received a double kit from the ES team or one of its partners, you have received all of the materials necessary to record audio during both eclipses. After each eclipse please remember to mail the MicroSD card to the ES team! To learn more about collecting audio data visit the Data Collector Page.
---
Should the AudioMoth device be placed indoors or outdoors?
The AudioMoth device should be placed outside. To learn more about collecting audio data visit the Data Collector Page.
---
How do I set the time on my AudioMoth recorder?
---
I'm outside the path of annularity/totality. Can I still record soundscape data?
Yes! We are looking for data from partial eclipses as well as total/annular eclipses. You can find the maximum eclipse coverage for your area with our eclipse lookup tool.
---
How long should I plan to record data?
Plan to start your recording 2 days prior to the eclipse and collect your AudioMoth 2 days after the eclipse.
Can I take a longer recording? No. The issued MicroSD cards and batteries have only been tested to collect 5 days of data. For this reason, longer recordings are not possible.
Can I take a shorter recording? No. Our 5-day recording period allows us to establish a baseline for soundscapes before and after the eclipse. To keep our data consistent, we recommend participants stick to this 5-day window.
---
Is there a Eclipse Soundscapes observation sheet that we can make available to encourage the public to observe and then submit their observations?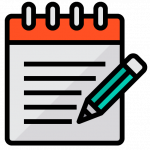 Yes, there are several handouts freely available that you can share with members of your community to provide them with information about the project and also to specifically support people in taking observation notes during the eclipse. Click to download a copy of Eclipse Soundscapes Observer Role Notes Handout/flier. You can find more handouts and other resources that support Eclipse Soundscapes involvement on the Facilitator Page. You can find more information about being an Eclipse Soundscapes Observer on the Observer Role page.
---