Scientists spend time learning about their topic of study before making observations or collecting data. Therefore, we recommend learning about eclipses as the first step for everyone participating in this project! To be an Apprentice you must complete Apprentice Training Lessons and take the Apprentice Certification quiz to earn your Apprentice certificate!
After completing this training you should be able to understand:
Important eclipse terms: annularity, totality, eclipse maximum, Path of Annularity, Path of Totality

Why solar eclipses happen

4 different kinds of solar eclipses

The difference between an Annular Solar Eclipse and a Total Solar Eclipse

How eclipses affect nature

Solar eclipse safety information
Apprentice Training Lessons
Learning Tip - Take Notes!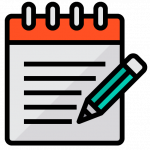 Each lesson has questions to help you find and think about the important information from that lesson. Answer those questions in your notebook. You can and should use your notes to help you during the Apprentice Training quiz!