What is a soundscape?
Have you ever listened to an album of relaxing nature sounds, like rains falling or whales singing? That's a soundscape! Soundscapes include any noises that humans hear in a given environment.
There are three major types of sound that can be found in soundscapes:
Biophony: Sounds generated by organisms (like bird song and cricket chirps)
Geophony: Sounds generated by the non-biological natural world (like wind and water noise)
Anthropophony: Sounds generated by humans or human-made technology (like human voices or vehicle traffic).
The study of soundscapes encompasses several disciplines, including acoustic ecology, bioacoustics, and soundscape ecology. The Eclipse Soundscapes Project focuses primarily on soundscape ecology.
What can we learn from soundscapes?
Soundscape ecology is an emerging field (established in 2011 by the article "Soundscape Ecology: The Science of Sound in the Landscape"). Scientists are still learning about the many ways it can be useful. The purpose of soundscape ecology is to explore the relationships between living organisms (including humans) and their environment. Soundscape ecologists use recording devices to collect soundscapes, then analyze the results using a spectogram: a visual representation of how sound frequencies vary over time.
Soundscapes themselves are valuable to conservation. There is a push to preserve soundscapes in delicate ecosystems, since changes in climate or excessive human impact may cause soundscapes to alter or disappear. Some agencies, like the U.S. National Park Service's Natural Sounds and Night Skies Division, are working to protect soundscapes by collecting recordings and preserving acoustic environments.
The analysis of soundscapes can also be beneficial to science. Acoustic data tells us about the environment, its health, and how different species behave and interact within it. We can make simple observations about which life forms are present in a habitat, and when they are most active or vocal.
We can also form hypotheses that explain why animals behave in certain ways. Some research has shown that organisms will change their call's timing and/or frequency so as not to interfere with other sounds in their physical environment. For instance, some frogs communicate their territorial calls using high frequencies. This may be a natural adaptation to their habitat, where the low frequency sounds of running water are prevalent. Other behavioral changes may happen in response to anthrophony: some birds will adjust their songs in environments where there is a lot of human-generated noise.
Soundscape ecology overlaps with sensory ecology, which focuses on how and why organisms gather information from their environment. Some organisms take advantage of soundscape noise to navigate or to hunt, while other organisms may take busy auditory signals as a sign of danger. From this data, we can research not only how ecosystems impact soundscapes, but how soundscapes impact ecosystems.
Another benefit of soundscape research is that it encourages interdisciplinary and cross-disciplinary study. Ecologists, social scientists, engineers, astrophysicists, and musicians have all turned to soundscapes to help broaden their field of research.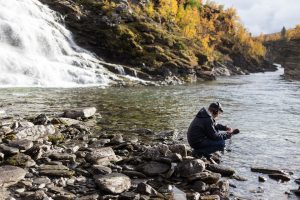 Are soundscapes the same as sonification?
Soundscapes and sonification are not the same, but they are somewhat related!
Sonification uses audio to convey information or perceptualize data. There is a lot of great work currently being done in the field of sonification! For example, our friends at NASA's Chandra X-Ray Observatory have used data sonification to turn the light from astronomical images into sound. Think of it like translation. Sometimes we are limited in our ability to see scientific data, but if we translate it into another medium like audio, we may be able to hear it. And because auditory perception has some advantages (in that it allows us to perceive temporal, spatial, amplitude, and frequency information) it may help us understand the information even better.
One major advantage of data sonification is that it opens doors for people who do not learn visually, including people with blindness or vision impairments. This is also true of soundscapes!
What is an Eclipse Soundscape?
The Eclipse Soundscapes Project will explore how celestial events, like eclipses, can impact life on earth. By collecting and studying soundscapes prior to, during, and after eclipses, we hope to better understand how eclipses change human and animal activity. There is some anecdotal evidence that the changes in light an eclipse causes may influence animal behavior. For instance, nocturnal animals may stir when it starts to get dark, and diurnal animals may vocalize as the eclipse passes and the light returns — this phenomenon is known as a "false dawn chorus."
These accounts are anecdotal, and to date there is little scientific evidence to prove or disprove these occurrences. By recording a variety of soundscapes and analyzing spectrograms, our scientists hope to identify trends in animal behavior.
To do so, we're working with a bioacoustic advisory board, featuring some of the top specialists in soundscape ecology and related fields. Our board members include Dr. Megan McKenna of Stanford University's Goldbogen Lab, Dr. Bryan C. Pijanowski of Purdue University's Center for Global Soundscapes, Dr. Laurel Symes of The Cornell Lab of Ornithology's Center for Conservation Bioacoustics, and Sound and Light Ecology Team Research Associate Dr. Jacob Job
We'll be introducing the team and their work in future blog posts, so stay tuned!